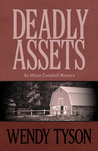 Deadly Assets
by
Wendy Tyson
My rating:
4 of 5 stars
Deadly Assets is the second book in the Allison Campbell Mystery series. It is a very well written and professionally edited mystery novel with a touch of romance.
Once again Allison Campbell, image consultant, becomes involved in solving a mystery in order to save her assistant from prosecution and her business' reputation. Two of her clients have gone missing at the same time. As she becomes involved in seeking the truth about their disappearances she finds herself involved in murders, family drama and the Russian mafia.
Wendy Tyson's mysteries have a definite Gothic feel about them. These books are not light hearted reading, but tackle some of the darkness that can surround families, business and the justice system. This mystery had me guessing up until the end.
My one complaint is that the romances between the heroine and her ex husband, and the one between her mother in law and her assistant, don't ring true to me. There is a definite coldness in the writing about these relationships.
Deadly Assets can be read as a stand alone, but I highly recommend that you read the series in order to fully understand this book's nuances.
ARC provided by Henery Press via Netgalley.